Bruce Bigenho
Bruce Bigenho is a jazz pianist who makes his home in Santa Barbara, California. He has had a long music career, having number of performing credits on CDs/ He has toured internationally and has played with musical luminaries such as Airto Moreira, Flora Purim, Jim Messina, Richie Cole, and Joe Cocker, to name a few. His musical passion also points to the latin music genre: He has performed with Latin music masters such as Poncho Sanchez, Ray Barreto, Victor Pantoja, and Johnny Nelson. His interest now focuses on reviving jazz music treasures from European and Brazilian composers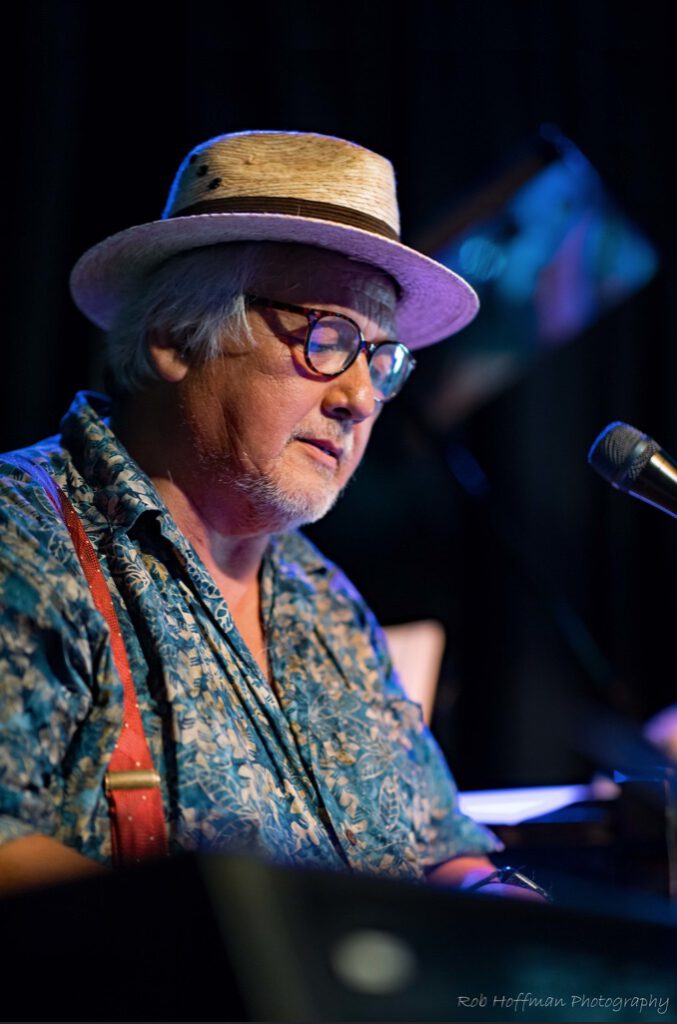 Sam McKinney
Born in Brussels Belgium, Sam began playing classical guitar at 12 and then switched to bass. He attended Berklee College of Music in 1981 returning to Brussels to play and record in a variety of bands and styles. He later moved to Santa Barbara to study at University of California, Santa Barbara. For the past three decades, Sam has played in a number of settings in Santa Barbara mainly with jazz and latin ensembles. The current focus is the M.O.B Quintet, working with Bruce Bigenho, Shaun Oster, Nicole McKenzie and Eje Lynn-Jacobs. This ensemble is focused on progressive jazz stemming from Europe and Brazil since the 70's. This ensemble is inspired by the ECM record label, created 50 years ago by Manfred Eicher. The ECM label recordings have a unique sound and aesthetic, highly prized by contemporary music afficionados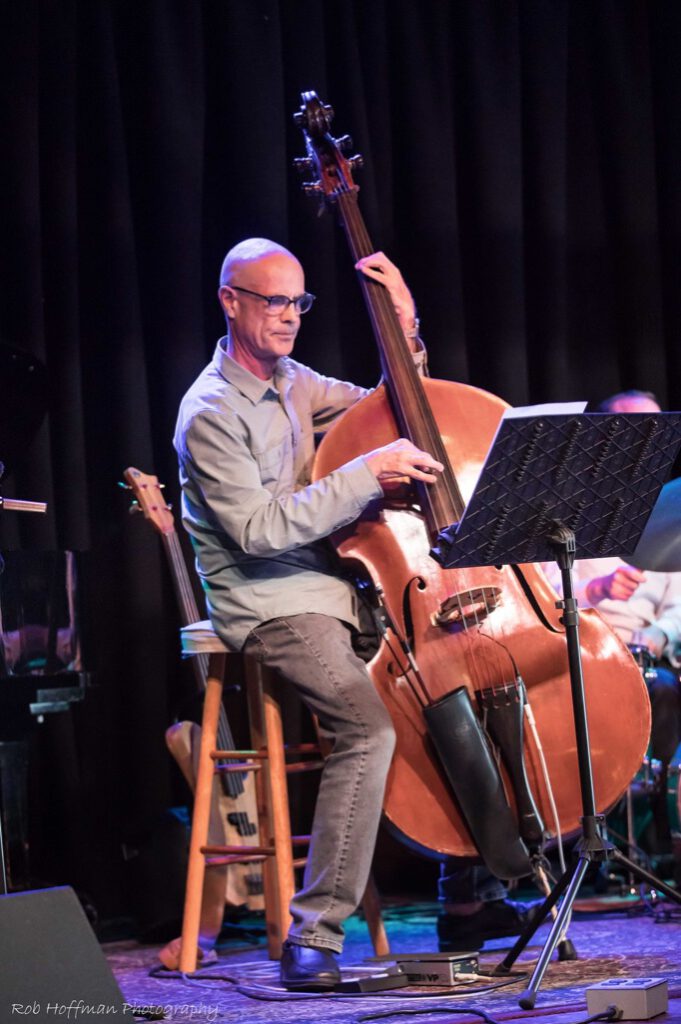 Shaun Oster
Shaun Oster is a Santa Barbara born artist/percussionist/drummer/composer/singer. Having studied with local teachers he found his way into the woodshed to study with Marc Craney, driving to Los Angeles weekly as a teenager. Shaun furthered his musical education, studying jazz drumset performance at Calarts with Joe Labarbara. Heavily influenced by Mark, Joe, Billy Higgins, Elvin Jones and Tony Williams, Shaun performs live weekly and has plays management role at Drumchannel.com. One of Shaun's notable/pioneering achievements as a composer/singer/songwriter is his virtual reality record - the first of it's kind and is/was available on Oculus Rift (DK2) and Samsung Gear VR. Shaun also performs soundbaths live for events with a plethora of unique instruments such as his Quartz Didgeridoo. www.shaunoster.com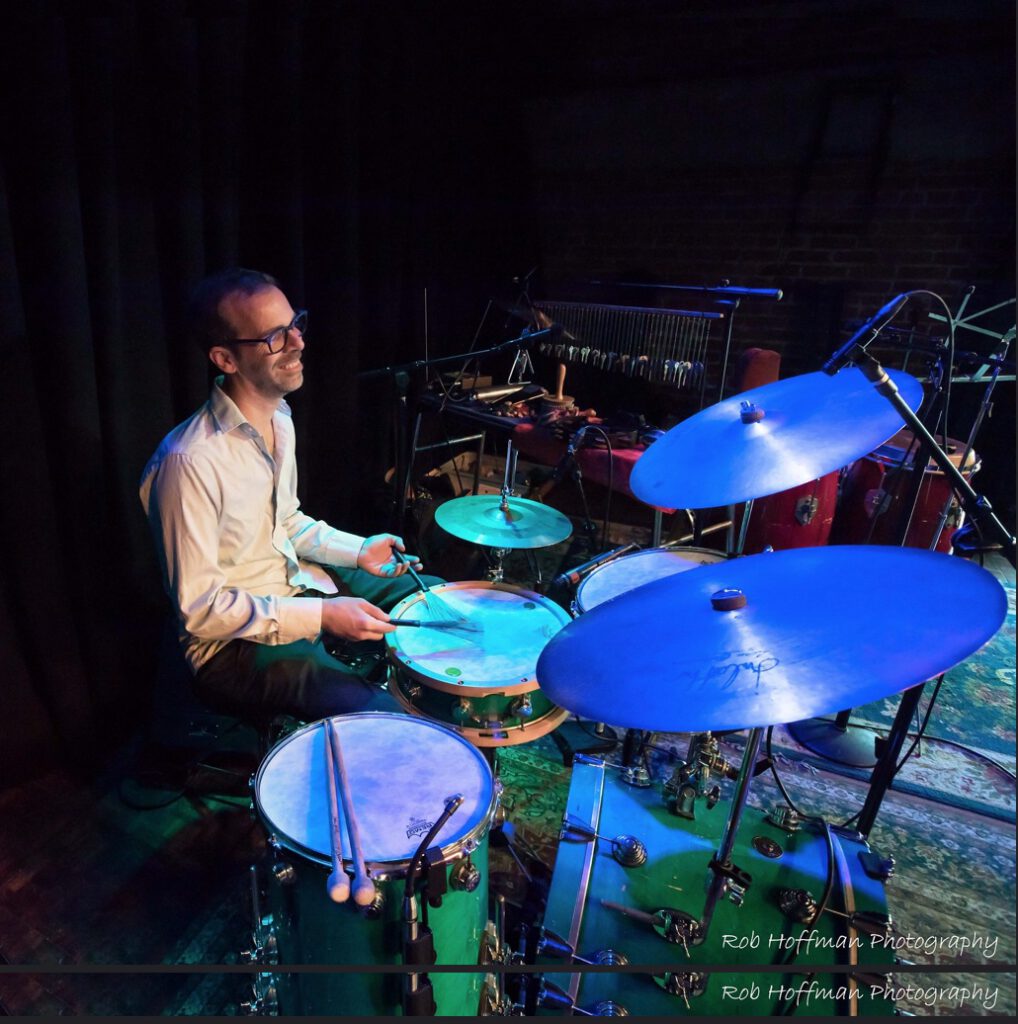 Bruce Bigenho
Bruce Bigenho is a jazz pianist who has been a longtime fixture of the Santa Barbara music scene. He has performed in dozens of local music ensembles - including the acclaimed salsa group Son Santa Bruta and latin fusion group Pura Vida. He appears on number of CDs, has toured internationally. and has shared the concert stage with musical luminaries such as Airto Moreira, Flora Purim, Jim Messina, and Richie Cole. His musical passion also points to the latin music genre, having performed with Poncho Sanchez, Victor Pantojo, and Ray Barreto. Bruce has also been active in supporting the local art and music community, for many years serving as music director or board member of the Santa Barbara Summer Solstice Festival. His current musical interest, explored with the group M.O.B. Jazz Quintet, is with progressive jazz of Europe and Brazil.





Sam McKinney
Born in Brussels Belgium, Sam began playing classical guitar at 12 and then switched to bass. He attended Berklee College of Music in 1981 returning to Brussels to play and record in a variety of bands and styles. He later moved to Santa Barbara to study at University of California, Santa Barbara. For the past three decades, Sam has played in a number of settings in Santa Barbara mainly with jazz and latin ensembles. The current focus is the M.O.B Quintet, working with Bruce Bigenho, Shaun Oster, Nicole McKenzie and Eje Lynn-Jacobs. This ensemble is focused on progressive jazz stemming from Europe and Brazil since the 70's. This ensemble is inspired by the ECM record label, created 50 years ago by Manfred Eicher. The ECM label recordings have a unique sound and aesthetic, highly prized by contemporary music afficionados
Shaun Oster
Shaun Oster is a Santa Barbara born artist/percussionist/drummer/composer/singer. Having studied with local teachers he found his way into the woodshed to study with Marc Craney, driving to Los Angeles weekly as a teenager. Shaun furthered his musical education, studying jazz drumset performance at Calarts with Joe Labarbara. Heavily influenced by Mark, Joe, Billy Higgins, Elvin Jones and Tony Williams, Shaun performs live weekly and has plays management role at Drumchannel.com. One of Shaun's notable/pioneering achievements as a composer/singer/songwriter is his virtual reality record - the first of it's kind and is/was available on Oculus Rift (DK2) and Samsung Gear VR. Shaun also performs soundbaths live for events with a plethora of unique instruments such as his Quartz Didgeridoo. www.shaunoster.com

Nicole McKenzie
Nicole McKenzie, (Violin) has performed widely as soloist and chamber musician. The Santa Barbara Independent declared, "McKenzie performed with gorgeous musicality." Winner of the Sutton Chamber Music Award, she is Concertmaster of the Santa Barbara Folk Orchestra, and teaches privately in person and online, at UCSB and Washington School, and at Santa Barbara Strings. She performs regularly with M.O.B. Jazz Quintet, Continental Cafe (accordion/violin duo), Channel Islands Chamber Orchestra, and with renowned pianist, Betty Oberacker. She was a founding member of the Nicole McKenzie Improv Group, which combined improvisation of dancers with musicians. She is also a trained dancer and group fitness instructor. Ms. McKenzie earned a BM Degree from Oberlin Conservatory, an MM Degree from Florida State University, and studied with Gary Kosloski at the Music Academy of the West. She has studied Jazz violin with Christian Howes.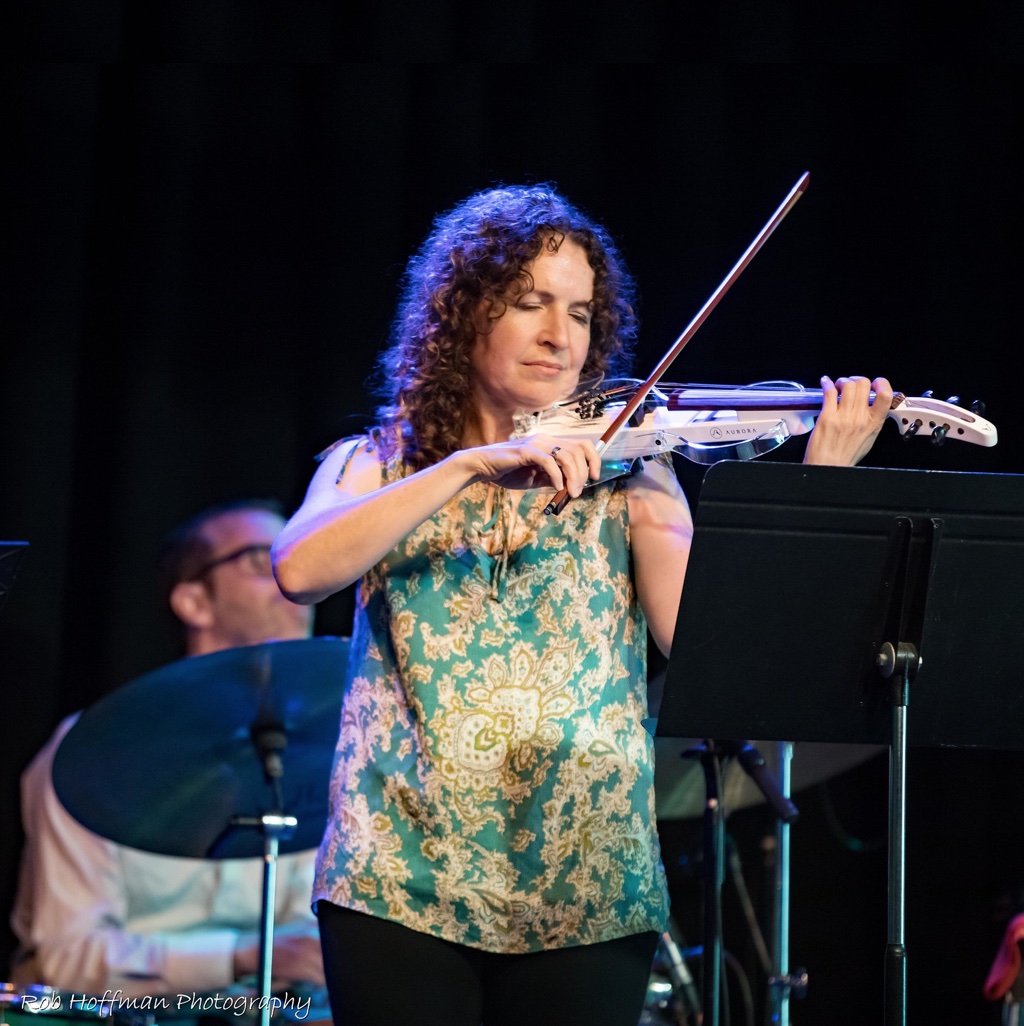 Eje Lynn-Jacobs
Born and raised in San Francisco, CA, Ejé Lynn-Jacobs became fascinated with music at an early age with his big sister's piano, and before graduating from high school, he had learned to play brass, stringed and hand percussion instruments. He received a bachelor of arts in music degree with a voice primary instrument in 1981 from San Francisco State U, studied electronic music at City College SF, became a touring musician and performed for tens of thousands of people around the world, became a recording studio singer and audio engineer for Pacific Music Productions in Honolulu HI, and began teaching voice privately in Hawaii. Ejé moved to Santa Barbara in 1994, where he envisioned helping kids find their voices, and with a team of musicians and music enthusiasts, started the Santa Barbara Vocal Jazz foundation, to help kids learn about the original American musical art form, Jazz. Ejé has performed and recorded with Kenny Loggins, Jeff Elliott, Kenneth Nash, Monte Schultz and Maria Muldaur, and is teaching voice privately and with SBCC School of Extended Learning.